About
Dympna's Celebrity Gallery
Dignitaries and Celebrities Congratulate Dympna Fay-Hart
DYMPNA WITH LOU HOLTZ, FORMER NOTRE DAME FOOTBALL COACH at the 2014 Century 21 Global Conference
EMORY MOOREHEAD, PAST CHICAGO BEARS NFL PLAYER and Northshore Association of Realtors President, with Rob Richter, the Century 21 Midwest Zone Recruiting Director. Celebrating at Chicago's Mid-America club for the Chicago Chapter of NFL Retirement fund. Thanks guys!
COLIN POWELL CONGRATULATES DYMPNA
Las Vegas, General Colin Powell Congratulates Dympna's International Hall of Fame Induction.
DEAL OR NO DEAL?
Las Vegas-Century 21 International Convention, Howie Mandel Congratulates Dympna
MAYOR DALEY VISITS NORTHWEST SIDE OF CHICAGO
Mayor Daley visits Edison Park to discuss revitalizing business areas and see the work that has been completed.  Alderman Mary O'Connor, past Alderman Brian Doherty, Dympna Fay-Hart, Mayor Richard Daley, Senator John Mulroe, 16th District Commander, area residents.
GREG ST. AUBIN, DIRECTOR OF GOVERNMENTAL AFFAIRS FOR THE ILLINOIS ASSOCIATION OF REALTORS
2012 State Capitol conference, Springfield, Illinois. Thank you Greg St Aubin, Director of Governmental Affairs for the Illinois Association of Realtors. Great job, and proud to call you my friend!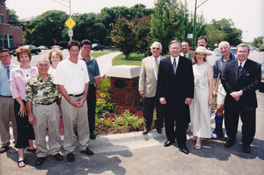 REVITALIZATION PROJECT OF NORTHWEST HIGHWAY
A work in progress, The Chicago Northwest Highway Revitalization Program is boosting businesses and their traffic! Thanks to all our Local government for coming out on this day!
MAYOR DALEY THANKS DYMPNA FOR SERVING AS EXECUTIVE DIRECTOR
Mayor Richard Daley thanks Dympna Fay-Hart for serving as Executive Director to City of Chicago Chamber of Commerce.
DENNIS FARINA & DYMPNA FAY-HART ST. MICHAEL'S BENEFIT
Dympna and Dennis Farina Supporting St. Michael's Parish Programs at Kendall College Culinary School in Chicago. Thanks Dennis!